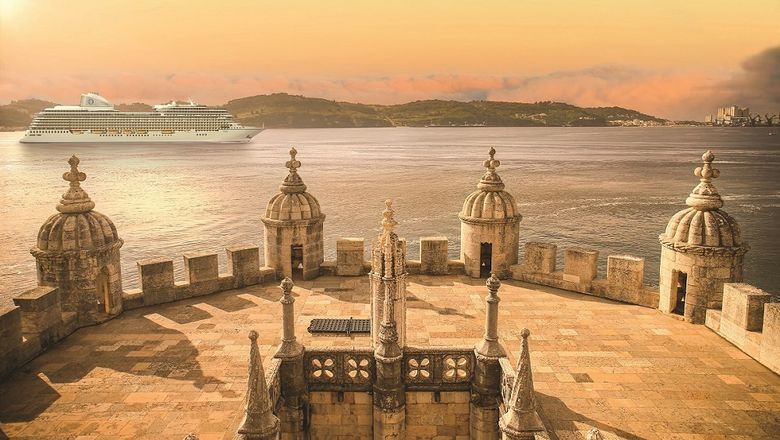 Thanks to plenty of ship orders made in advance of the pandemic, there are more than a dozen ocean newbuilds on the horizon. In fact, not including smaller coastal and expedition cruise operators and ship transfers from other brands (such as Costa Cruises to Carnival Cruise Line), there are a total of 14 maiden mainstream vessels scheduled to set sail in 2023.
1. Carnival Jubilee, Carnival Cruise Line
Following Mardi Gras and Carnival Celebration, a third Excel-class ship will join Carnival Cruise Line — the historically named Carnival Jubilee. Currently under construction at the Meyer Werft shipyard in Papenburg, Germany, the LNG- (liquefied natural gas) powered vessel will homeport from Galveston, Texas, beginning in December.
2. Celebrity Ascent, Celebrity Cruises
Another sister ship to arrive in December will be Celebrity Cruises' Celebrity Ascent. The fourth Edge-class ship will repeat the size and arrangement of the slightly larger and latest Celebrity Beyond, with its own Magic Carpet and all. Its inaugural voyage will sail to the Eastern Caribbean from Ft. Lauderdale, Fla.
3. Emerald Sakara, Emerald Cruises
Like Viking, Emerald Cruises is another line to recently expand from river cruising into ocean voyaging, and it is ready to launch its second yacht — Emerald Sakara — in August. The intimate 100-guest vessel will start off on its "Ionian Sea Adventure" from Athens to Rome.
4. Explora I, Explora Journeys
As an entirely new brand spun from MSC Cruises, Explora Journeys will be an all-inclusive luxury line taking cues from its famed MSC Yacht Club experience and making it ship-wide. The 922-guest Explora I will be the first of six planned ships when it comes out in July, first sailing from Southampton in the United Kingdom.
5. MSC Euribia, MSC Cruises
Meanwhile, MSC Cruises will have its own new MSC Euribia debuting in June 2023. The line's third Meraviglia Plus-class ship will be its second LNG-powered vessel and first from the company to display hull art. Euribia will be introduced in Northern Europe, departing from Kiel, Germany, and heading to the Norwegian Fjords.
6. Norwegian Viva, Norwegian Cruise Line
On the heels of its latest Norwegian Prima, the second in the namesake class — Norwegian Viva — will be unveiled in August. Viva will repeat Prima's latest take on The Haven ship-within-a-ship complex, and feature a massive array of culinary offerings, a go-kart racetrack and more when it arrives in Miami.
7. Resilient Lady, Virgin Voyages
Virgin Voyages third ship, Resilient Lady, is scheduled to launch in May, initially from Athens, Greece, and farther expanding to Australia. The brand's "adult by design" casual atmosphere is expected to continue in full force.
8. Scenic Eclipse II, Scenic Luxury Cruises & Tours
Similar to corporate cousin Emerald Cruises, a second ship will also join the Scenic Luxury Cruises & Tours fleet in April. Scenic II will debut with another pair of helicopters, and an upgraded deck pool experience, to luxuriously travel from pole to pole. Its inaugural "Incredible Iberian Discovery" voyage will travel from Lisbon to Barcelona.
9. Seabourn Pursuit, Seabourn Cruise Line
Seabourn Cruise Line will be another in 2023 to double up on its adventure yachts when Seabourn Pursuit sets sail in September. Mirroring the design of Seabourn Venture, the luxury ship will embark on expeditions from the Arctic to Antarctica and remote destinations in between.
10. Seven Seas Grandeur, Regent Seven Seas Cruises
Yet another luxury line preparing to launch a new ship is Regent Seven Seas Cruises. Its latest Seven Seas Grandeur will be a third sister to Seven Seas Explorer and Seven Seas Splendor when it embarks in November. The ship's maiden voyage will be a weeklong journey from Venice to Barcelona.
11. Silver Nova, Silversea Cruises
If there was any remaining doubt that 2023 is shaping up to be a year full of luxury cruising, Silversea Cruises is scheduled to unveil its all-new Silver Nova in August. The entirely new class of ship will feature a unique asymmetrical layout with more scenic venues than ever before from the line. Nova will first launch in the Mediterranean Sea, roundtrip from Venice.
12. Viking Neptune and Viking Saturn, Viking
Not slowing down in the slightest, Viking has not one, but two, ocean ships for 2023. Viking Neptune, the line's eighth ocean ship, was just christened this month, and its ninth, Viking Saturn, is on the calendar for April.
13. Vista, Oceania Cruises
Last, but certainly not least, is Oceania Cruises' latest design and class of ships beginning with Vista in May, which will be the line's first new ship in a decade. Building on the brand's upscale reputation, Vista will be somewhat larger than its preceding Marina and Riviera. Its maiden voyage season will begin in the Mediterranean.
Source: https://www.travelweekly-asia.com/Cruise-Travel/Best-new-cruise-ships-in-2023?