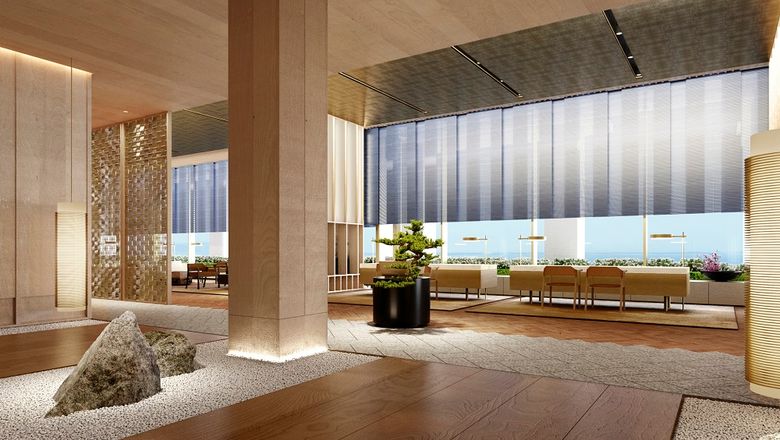 The Ritz-Carlton Fukuoka is preparing to open in Big Bang, the name given to an urban renaissance project in the Japanese tech hub of Tenjin that offers tax and other regulatory incentives to woo business start-ups from overseas.
The 147-room and 20-suite hotel will open its doors on 21 June 2023 in the prefectural capital of Fukuoka on the island of Kyushu in southern Japan, with connectivity to transport corridors being a major attraction for visitors.
Located within 15 minutes of Fukuoka Airport, the bullet-train-serviced Hakata Station, and Hakata Port by car or by public transport, the Fukuoka Daimyo Garden City complex is a core feature of the Tenjin Big Bang site.
The hotel – the first by Marriott International to open in the Kyushu region – will occupy the first, third and upper floors of Garden City's main tower, which rises 25 stories above a new 3,000-sqm park created for outdoor events.
The hotel's modernist spaces will incorporate local art traditions such as Hakata-ori weaving and woven bamboo.
A club lounge, spa, gym, and pool are planned for the 24th floor, along with a bar overlooking the ships and lights of Hakata Bay.
In addition to a wedding chapel and banquet rooms, the hotel facilities will include a Japanese restaurant serving teppanyaki, sushi, and kaiseki multi-course menus; an all-day dining venue for Western-style cuisine; a lobby lounge and bar for cocktails and light refreshments; and a café for afternoon tea and takeout options.
The hotel is the brand's sixth property in Japan, following sister openings in Osaka (1997), Tokyo (2007), Okinawa (2012), Kyoto (2014) and Nikko (2020).
Source: https://www.travelweekly-asia.com/Travel-News/Hotel-News/Ritz-Carlton-Fukuoka-to-open-in-June-2023?