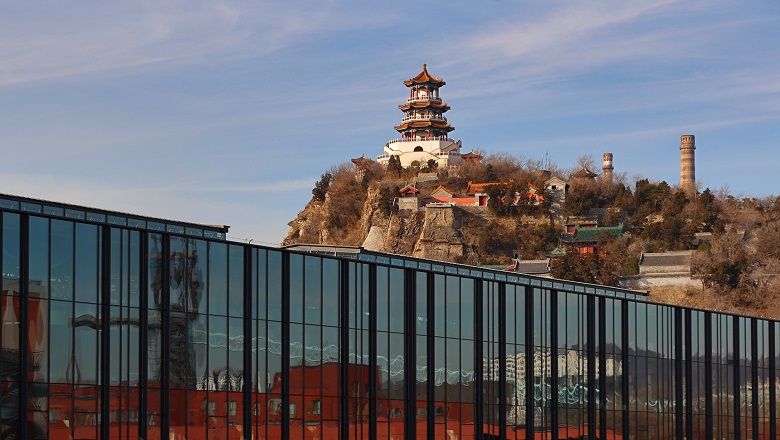 Shangri-La Shougang Park, Beijing has opened its doors, offering 293 keys and as one of the official hotels of the 2022 Beijing Winter Olympics, happening next month.
Owing to its location — the Snowboard Big Air Venue for the 2022 Beijing Winter Olympics is next door — and its stamp as an official hotel of the Games, Liang Jie, Deputy GM of Shangri-La Shougang Park, Beijing believes "this unique industrial-inspired hotel and the rejuvenated Shougang Park, will encourage more people to appreciate this neighbourhood".
Located at the heart of Shougang Park, designers have built on the hotel's former use as a power plant, keeping the venue's original architectural foundation while introducing a range of environmentally friendly features and technological advancements.
The hotel complex comprises three buildings. This includes the main entrance and lobby encased in a glass façade for natural lighting, while retaining the old building's steel elements and wooden patterns.
The second building houses 283 guest rooms and suites that range from 42 to 84sqm, all offering views of the neighbouring Shijingshan Hill, Yongding River and Qunming Lake through floor-to-ceiling windows.
In addition, parents with kids can opt for the seven family suites, with themes such as Tree Top, Ski, and Space, creatively furnished and stocked with amenities to inspire a spirit of adventure.
The third and final building in the hotel complex houses the hotel's 1,400sqm of banquet and event spaces, fitness centre and children's playground, Buds.
F&B options include all-day dining Shang Market, lobby lounge Power Station which is set in a botanical garden setting, and restaurant Shang Brew which offers craft beers and food.
Art and sustainability themes anchor the new hotel's aesthetics, which gravitate towards nature. Apart from evergreen plants in the lobby, the hotel is dotted throughout with art displays — such as a mesh wire installation in the lobby titled "Journey of Hope" by Japan's Studio Sawada Design, inspired by the birds that migrate to Yongding River every season.
Eco-conscious guests will appreciate the in-room air purification systems and drinking water taps to reduce single-use plastic consumption.
Shangri-La Shougang Park, Beijing's restaurants, banqueting facilities and part of its guest rooms are now open, with the remaining guest rooms, fitness centre, family suites, and BudsTM to follow in phases through 2022.
The Olympic Winter Games Beijing 2022 will take place between 4-20 February, while the Paralympic Winter Games will be held from 4-13 March.
Source: https://www.travelweekly-asia.com/Travel-News/Hotel-News/Shangri-La-opens-in-Shougang-Park-Beijing