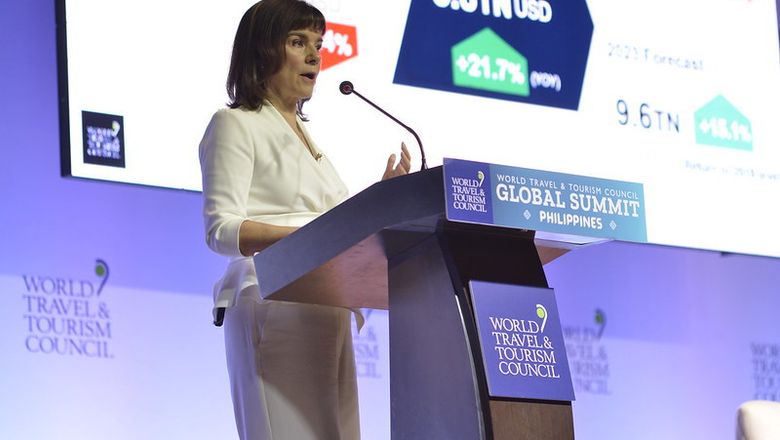 Travel and tourism's contribution to global GDP is projected to return to 2019 numbers by 2023, according to the World Travel & Tourism Council (WTTC), but it would have gotten there faster if not for the uncoordinated and inconsistent response from governments to the pandemic.
That was the message from travel leaders gathered in Manila last week for WTTC's Global Summit, who said that while demand is back, barriers to travel are still up.
WTTC CEO Julia Simpson said that last year's recovery was slower than expected due in part to the impact of the Omicron variant but mostly to "an uncoordinated approach by governments who rejected the advice of the World Health Organization, which maintained that closing borders would not stop the spread of the virus but would only serve to damage economies and livelihoods."
The WTTC projects travel and tourism GDP to grow at an average rate of 5.8% annually between 2022-2032, outpacing the 2.7% growth rate for global economy, to reach US$14.6 trillion (11.3% of the total global economy).
This year, she said, travel's GDP contribution is expected to grow 43.7%, to almost US$8.4 trillion, or 8.5% of the total global economic GDP, down about 13.3% from 2019 when the industry's contribution to GDP was US$9.6 trillion.
Simpson was among the leaders at the Global Summit who said that it took Covid for governments to realise the value of tourism, and only after it went away.
"It took a pandemic for leaders to really understand our worth," she said. "For almost a decade our sector's growth outstripped that of the economy. Covid changed that."
But that doesn't mean they are making it easy for travel to rebound.
"I call on governments to look at science and reopen their borders," she said. "Open the economy and get travel and tourism and the millions of people who earn their livelihood from it back to work."
Panelists from all sectors said that travel still faces major roadblocks to recovery in the form of uncertainty, paperwork and inconsistency, which are colliding with high intent to travel.
"Pent-up demand is real," said Alan Watts, president of Hilton's Asia Pacific region. "Bleisure is real. People are staying longer and spending more money. The biggest challenges we have is the inconvenience of paperwork and uncertainty. The single biggest barrier is the fear of getting stuck somewhere — the ongoing testing regime."
Silversea Cruises CEO Roberto Martinoli said the lack of consistency among different countries, and even in different regions of the same country, continues to be an issue.
"This confuses people and they are extremely concerned," he said. "The lack of consistency causes uncertainty in passengers."
Even preparing for trips can create anxiety in travellers who are concerned about making a mistake when submitting test results and vaccine certification, he said.
Testing also increases the cost of travel, especially when destinations demand PCR tests, which cost far more than antigen tests. Martinoli pointed out that even if the cost of tests themselves comes down, the staff needed to administer them will still be high.
Panelists also bemoaned the lack of universal or even regional health passes that could be shown to enter various countries rather than having to provide different documentation at every border.
"We have a patchwork of systems that hit customer confidence with changing rules and patchwork of tests," said Simpson. "We need to fully integrate travel health status in digital documents if we are to survive another pandemic."
Source: https://www.travelweekly-asia.com/Travel-News/Government/WTTC-says-global-tourism-to-return-to-pre-Covid-levels-by-2023?utm_source=enews&utm_medium=email&utm_campaign=TWAedaily