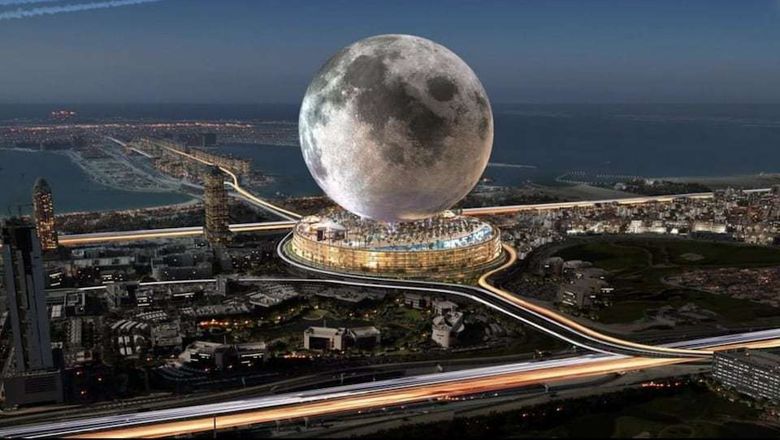 It's round, it's tall, it's not made of cheese, but it will cost a whopping US$5 billion.
Welcome to Moon World, a massive, moon-shaped hotel in Dubai to be developed by a Canada-based company.
Just like the moon, the project is still up in the air, although Moon World Resorts Inc says the Dubai mixed-used building will be the first of four to be built across the world, with Las Vegas pencilled in for a similar project.
Alongside a full-service resort with 4,000 luxury suites, there will be 300 private residences available for purchase, a nightclub, event and retail spaces, and a wellness spa.
Maintaining the space theme, the resort will offer Luna-rover taxis and virtual space walks in astronaut suits.
Michael R. Henderson, co-founder of Moon World Resorts, said, "Moon Dubai will be the largest and most successful modern-day tourism project within the entire MENA region, doubling annual tourism visitations to Dubai based on its global appeal, brand awareness, and unique multiple integrated offerings. It can comfortably accommodate 10 million annual visitors."
Henderson told Dubai's Khaleej Times that the moon-like structure will be made of carbon fibre and would replicate the surface of the moon and its craters.
The UAE continues to attract the world's grandest hotel projects. MGM is pressing ahead with a 1,000-room resort modelled on its ritzy Las Vegas property – minus the gaming – while another Las Vegas major, Wynn Resorts, plans to open a beach resort in Ras Al Khaimah's Marjan Island in 2026.
Source: https://www.travelweekly-asia.com/Destination-Travel/Massive-Moon-Resort-is-rising-in-Dubai?