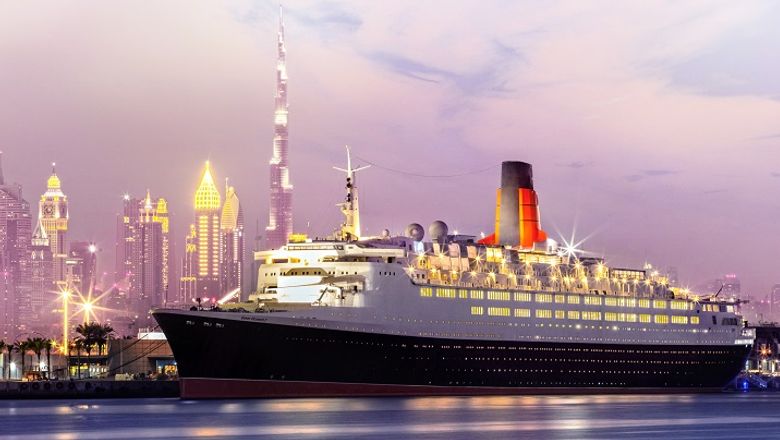 Legendary cruise ship, Queen Elizabeth 2, which hosted the likes of prominent guests such as Nelson Mandala, Elton John, Elizabeth Taylor and the British royal family throughout its 1969 to 2008 sailings, will be given new life in the form of a floating hotel in Dubai.
The Queen Elizabeth 2 will become Accor's landmark property for its MGallery Hotel Collection in Dubai after further upgrades and renovations. The group is currently collaborating with Dubai officials to transform the ship into the first and only floating hotel in the destination.
After its refurbishment, the ship will be rebranded MGallery Queen Elizabeth 2 featuring 447 hotel rooms, nine F&B options, six retail outlets, a swimming pool and a gym. MICE groups and meeting planners are also welcomed to use the ship's 10 meeting rooms or 5,620sqm of outdoor event space.
The MGallery Queen Elizabeth 2 is situated in Dubai's Port Rashid. Its strategic location near Sheikh Zayed Road provides convenient access to many major attractions the city has to offer. The Dubai International Airport, Dubai Mall, Burj Khalifa and La Mer Beach will be less than 20 minutes away, while the Palm Jumeirah and Mall of the Emirates are located no more than 35 minutes away.
"This is a great opportunity for Accor to expand its footprint in the UAE with the introduction of a unique project which brings diversity to the portfolio, while expanding the MGallery brand presence in the city" says Mark Willis, CEO of Accor India, Middle East, Africa & Turkey.
"Not only are we in charge of the only floating hotel in Dubai, but we are also contributing the Dubai Urban Master plan 2049, with the aim to map out the path for a sustainable urban development while increasing the city attractiveness as a global destination".
Source: https://www.travelweekly-asia.com/Travel-News/Hotel-News/Accor-turns-Queen-Elizabeth-2-ship-into-MGallery-hotel?utm_source=enews&utm_medium=email&utm_campaign=TWAedaily